1)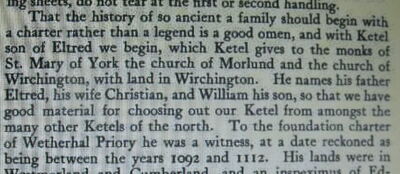 WIRCHINGTON 1100
Sedgewick,
Place names of Cumberland
, Manchester Uni. page 128
2) 5 References in Registrum Prioratus de Wetherhal - Register of the Priory of Wetherhal, J E Prescott, Canon of Carlisle cathedral - copy held by Harvard College (1897) - Type Wirchington into search box.
3) The Curwens of Workington: Ketel gives to the monks of St Mary of York the church of... Wirchington with land in Wirchington. Barron Oswald (1904) The Ancestor, A Quarterly Review of County and Family History, Heraldry and Antiquities, No IX - 1904
Ad blocker interference detected!
Wikia is a free-to-use site that makes money from advertising. We have a modified experience for viewers using ad blockers

Wikia is not accessible if you've made further modifications. Remove the custom ad blocker rule(s) and the page will load as expected.