a)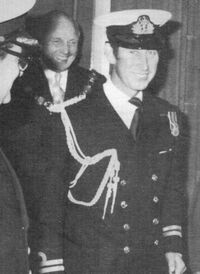 When Workington man Brian Golding went to Buckingham Palace to collect his MBE recently... his abiding memory will be of a conversation he had with Prince Charles... When he told the Prince he was from Workington, Prince Charles replied: "You mean Wucki'n?"
- The Prince of Wales then told Mr Golding that he had fond memories of Workington after his ship docked here during his naval career. - The Prince 'Likes Jennings and Talks Wucki'n' - Times and Star - V Paterson - 16 July 2004
The Prince visited the town as Captain (Lieutenant Commander) of Mine-sweeper, HMS Bronington. In 1976, he visited the Prince of Wales Dock, met Lawrence Street School pupils and locals at the Carnegie Arts Centre, before hosting a cocktail party on board ship. He then joined members of his crew and locals, at the Rendezvous Night Club in Oxford Street, the present Weatherspoons.
b) '...Wucki'n miner who boasted of being an acrobat and juggernaut...' - Peter Wright, Cumbrian Chat: How it is spoke, Dalesman, Clapham in N.Yorks, 1978, p8.
c) Place names in dialect can be worked out by their spellings but many are often still pronounced this way: Wucki'n (Workington), Whitehebben (Whitehaven), Merrypoort (Maryport) and Speeatry (Aspatria). Cumberland_news.co.uk - Cumberland Dialect Explained - last updated at 16:15, Wednesday, 17 June 2009
d) Ethel Fisher reads her poem 'Gone But Not Forgotten' - Times and Star video - CNGroup- Ethel Fisher bio.
Personal thoughts on Wucki'n and Wukki'n
Edit
To be edited written 2009 (now 30-01-2013)
Prince Charles replied: "You mean Wucki'n?"
Edit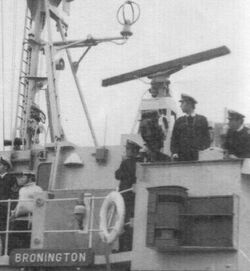 The widespread use and acceptance of the shorter, less formal pronunciation is illustrated by journalist Viv Paterson's story in the Times and Star headlined:
Prince 'Likes Jennings and Talks Wucki'n'
When Workington man Brian Golding went to Buckingham Palace to collect his MBE recently, he expected a lot of formality pomp and ceremony. There was all that, but his abiding memory will be of a conversation he had with Prince Charles, who presented him with his MBE for his dedication to St Gregory's School.
When Brian told the Prince he was from Workington, Prince Charles replied: "You mean Wucki'n?"
The Prince of Wales then told Mr Golding that he had fond memories of Workington after his ship docked here during his naval career. He added that he had also enjoyed visiting Cockermouth and liked Jennings beer.'' (16 July 2004)
Viv noted the Prince's words as Brian told her the story. We can assume that at no time did Charles point out exactly how he would spell 'Wucki'n'. But Viv did the next best thing, she wrote the word down as Brian had pronounced it to her.
Workington poet and historian, Ethel Fisher MBE, spells our name Wucki'n. But she also uses Wukkiton and Wukiton '...un Wukkiton's ower ont west - Wukkiton lies aw gaa tut left - while Newcastle's gaa tut reet...' - Ethel Fisher MBE, poem 'Let the Train Take The Strain' in More Humorous Tales in Cumberland Dialect Rhyme, p88, 2008
Dialect expert Peter Wright uses both Wukki'n and Wucki'n, and also identifies '...the glottal stop, that sound like a little cough masquerading as a t in words like pi'y and Wukki'n (Workington)?' - Cumbrian Dialect, Dalesman, 1979, p33
Ted Relph speaks of 'Sheila Richardson fra Wuki'ton (Workington) wha telt us aw aboot The Forgotten Man of Lakeland.' - Editor's introduction to The Journal of the Lakeland Dialect Society, 2008
Wukkit'n is the spelling found in The Cumbrian Dictionary of Dialect, Tradition and Folklore, William Rollinson and Peter Kearney, Pub: Smith and Settle, 1997, p191
Kamallan's poem Growin up in Cumbria, is described as 'A bit e Cumbrian frae a Wukintun lass' [1](2006)
In my comments below, I will use the spellings Wukki'n, Wukkiton and Wukkinton. I do so not because I think they are the 'correct' versions, but because I actually prefer the way the double-k looks on the page. But you are free to substitute appropriate letters.
We should not underestimate the historical significance of Prince's comment, because it is based upon his own experiences of the town he fondly calls Wukki'n. It is also a royal acknowledgement that our town has both a colloquial title, Wukki'n (Wukkiton or Wukkinton) and a formal one, Workington.
Prince Charles, Ethel Fisher, Ted Relph, Peter Wright and countless others, place emphasis on the first part of the town's name, Wukki (or Wukkin). This is the part that represents the Weorcingas, 'The People of Weorc' in the original Anglo-Saxon Weorcinga-tun.
After more than a thousand years of our history, locals and the heir to the English throne, recognise the people of our settlement as the Wukki (aka Wukkin), who live in the 'ton' known as Wukki'n, Wukkiton or Wukkintun.
Scots, Geordies and Scousers now proudly celebrate their individual dialects as a unique part of local character. It may be time for the Wukki (aka Wukkin) to do likewise.
By accepting and using a dialect version of the town's name we in no way reject the formal title of Workington.
As you will see, many other variations do occur and opinions differ in the list detailed below.