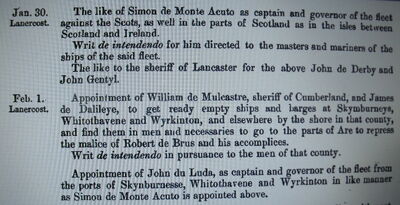 a)
Sedgewick, 'Place names of Cumberland', Manchester Uni. page 128
b) King Edward I Calendar of Rolls 1301-1307
c) Armstrong AM, Mawer A, Stenton FM, Dickens Bruce (1952), 'The Place-Names of Cumberland', English Place-Name Society, Vol XXII Part III, Page 480. cf: Wyrksop, Wirkesop
d) ...sheriff of Cumberland... to get ready empty ships and barges at Skymburneys, Whitothavene and Wyrkinton ...find them in men and necessaries to go... to repress the malice of Robert de Brus and his accomplices... - King Edward I Calendar of Patent Rolls - 1 February 1307.
Ad blocker interference detected!
Wikia is a free-to-use site that makes money from advertising. We have a modified experience for viewers using ad blockers

Wikia is not accessible if you've made further modifications. Remove the custom ad blocker rule(s) and the page will load as expected.